Ecologi Zero®: Easily calculate your business emissions for free
Your net-zero journey starts here
Take climate action for our planet with Ecologi Zero®. Our easy-to-use tool for small and medium sized enterprises.
Get started for free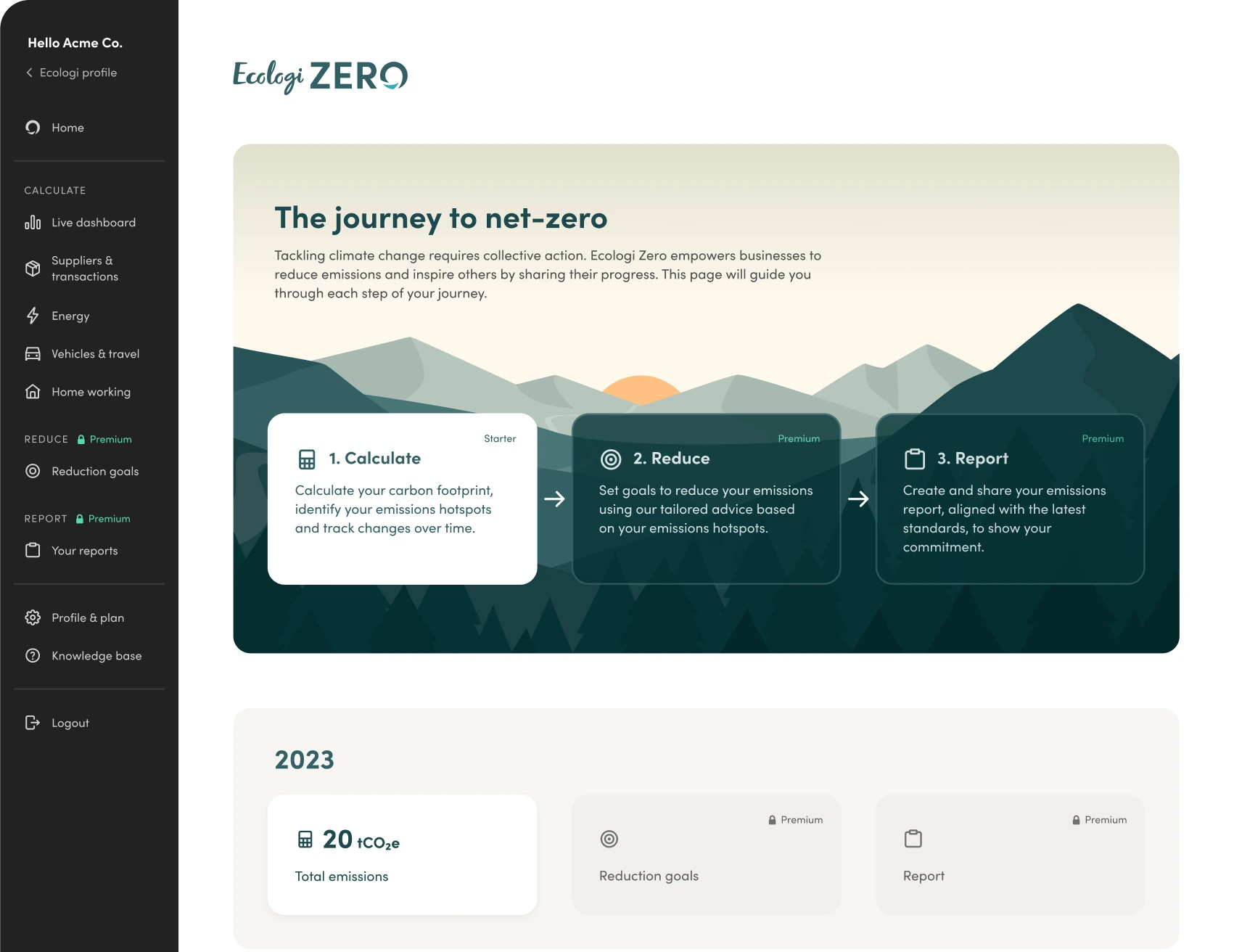 How Ecologi Zero helps you
Ecologi Zero empowers businesses to reduce emissions and inspire others by sharing their progress.
We make it easy to calculate your footprint and identify your emissions hotspots.
Use our tailored advice to select goals that will help you in reducing your emissions.
Transparently report on your progress and share your commitment to future action.
And, you can boost your positive impact by funding high-quality climate projects over in our Impact Shop.
We built Ecologi Zero for business
We believe that every business can be a force for good, and that small and medium-sized businesses have an integral role to play. We're hard at work expanding Ecologi Zero's reach. For now, we support businesses that look like this:
SMEs
Small and medium-sized enterprises of up to 100 employees
UK based
Businesses based in the United Kingdom
Service industries
Businesses in the services industries, (rather than those who sell physical products)
Xero users
Businesses that use Xero accounting software (with support for other platforms planned)
How it works
Once you've set up your free Starter account and connected your accounting software, you're all set to start calculating your emissions.
Starter plan - Free
Calculate your footprint
Before you can reduce emissions or set meaningful goals, you need to understand your starting point. Calculate your carbon footprint across your business operations and supply chain.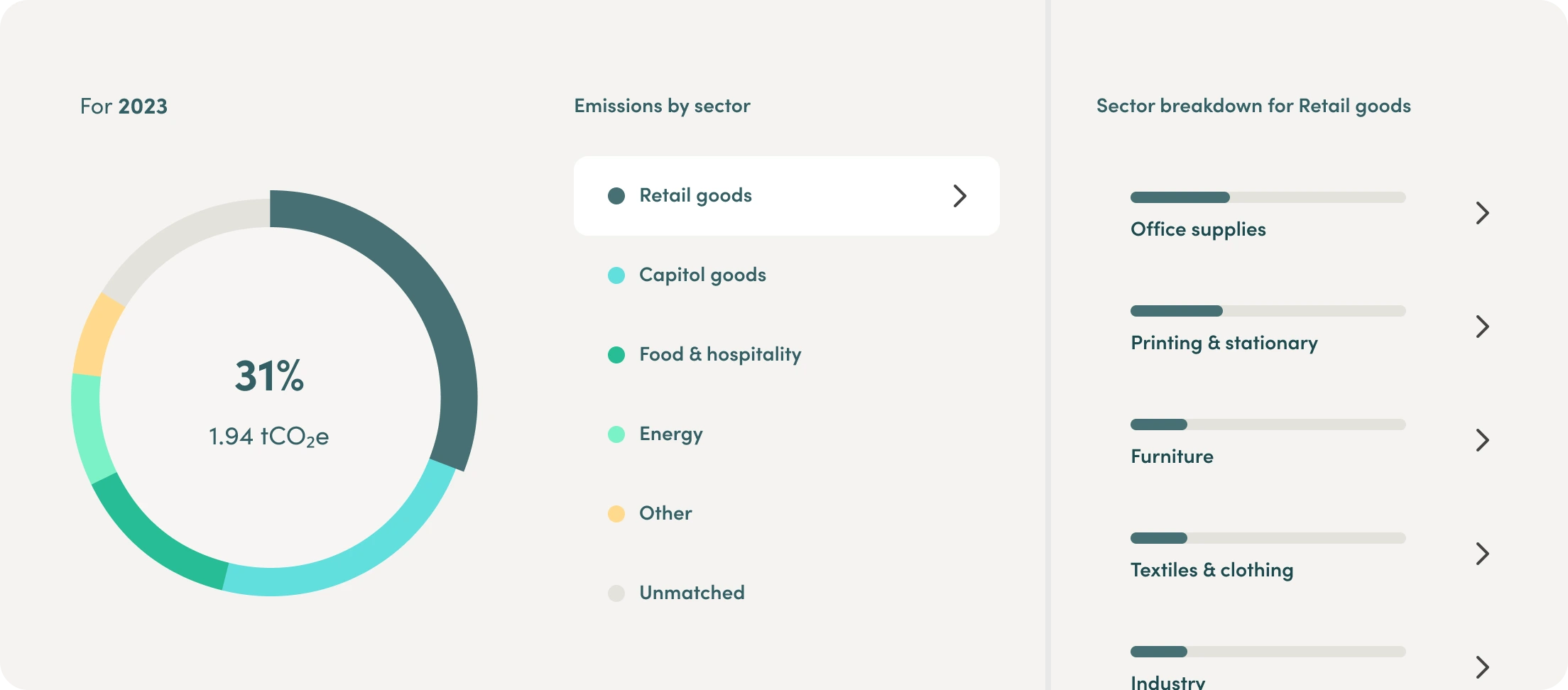 New!
Premium plan - £799/year
All starter plan benefits +
Identify your hotspots and set reduction goals
Reducing your emissions is the most important step on your journey to net-zero. Set achievable goals, based on your emissions hotspots.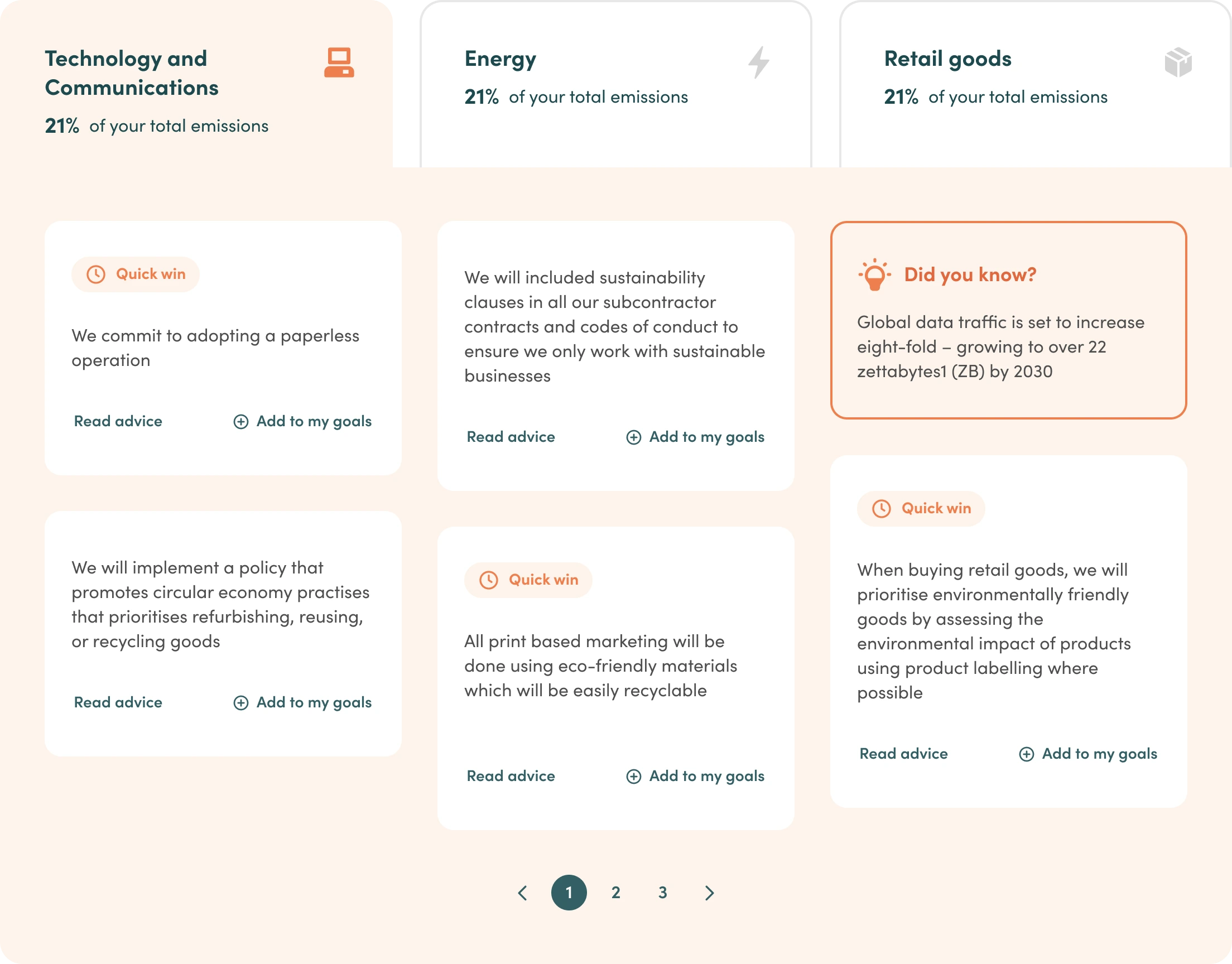 Create your yearly report
Show your commitment and build trust by reporting on and sharing your progress transparently (even if you're not perfect).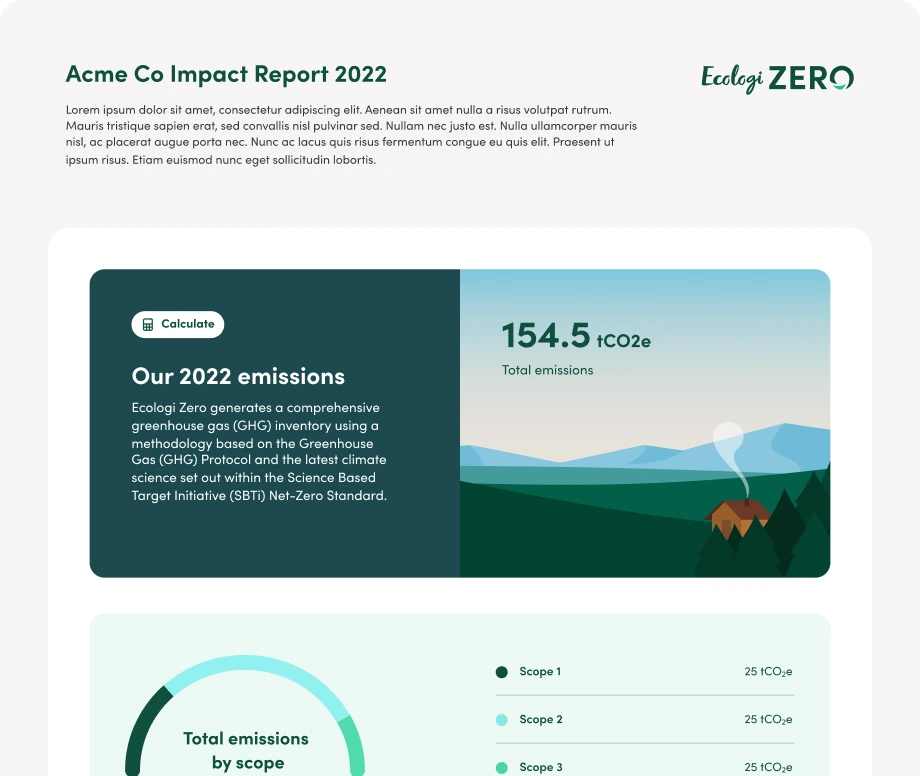 Sign up for Ecologi Zero®
It's free, quick and simple to calculate your carbon footprint with Ecologi Zero. Sign up today - we know we're going to do great things together. A brighter future starts here.
Check if you're eligible first
Tell us about your business in 4 steps:
We use the industry-leading dataset
Ecologi Zero uses the most comprehensive carbon footprinting dataset of its kind to calculate your carbon emissions. We're one of the first businesses to use the new and industry-leading dataset from Small World Consulting and carbon accounting expert Prof. Mike Berners-Lee. We include all seven greenhouse gases under the GHG Protocol, so you can be sure you're getting your journey to net-zero off to a great start.
"We are delighted that Ecologi are early adopters of our new emissions dataset, which we have worked to ensure is as up to date, robust, and realistic as possible"
What our customers say
Climbing Trees

"Ecologi Zero is helping us get real clarity on our emissions. With this in place we can make further strides in reducing our negative impact."

View profile

Knowlton

"Just getting into Ecologi Zero and loving it!! Thank you so much for the work that has gone into this. I truly think this is a game changer!!!"

View profile

Convincible

"This is going to be huge. Finally, companies of all sizes can quickly and easily understand their footprint."

View profile
About Ecologi
By joining the Ecologi Zero community you'll be helping to take the first steps in decarbonising the world's economy. Our mission is to inspire and empower businesses to accelerate global climate action. Ecologi has already helped more than 20,000 businesses take climate action, avoided more than two million tonnes of CO2 and funded the planting of over 70 million trees in reforestation projects around the world.
Find out more
We answer your questions
What is Ecologi Zero?

Who is Ecologi Zero for?

How can Ecologi Zero help me reduce my organisation's emissions?

How does Ecologi Zero work?

How does Ecologi Zero calculate emissions?

What do we mean by service industry?
Browse our other climate products
Climate action for your team
Fund certified climate projects and plant real trees with a monthly Climate Action Workforce subscription.
Climate action shop
Plant trees around the world, fund certified carbon avoidance projects in our Impact Shop. Take climate action on your terms.
Climate action with every sale
Automatically fund tree planting for every order or support verified climate projects with each transaction, through our simple integrations.